Tips for 2020 Product Development
It's the middle of January, and the Medicare Advantage (MA) world now knows whether you were a winner, loser, or maintaining status quo from the 2019 Annual Election Period (AEP). This last year was a great one to test the waters with strong benefit strategies and aggressive sales and marketing techniques. We saw several of our clients really dig deep into their benefits and products to get aggressive and push their actuaries to really get the best products possible, and the results were definitely positive.
Going into benefit planning for 2020, there are a few ideas you should be considering:
Chances are, this will be another year where reimbursements are higher, and it is critical to ensure you are as competitive as possible. If you cannot work within your current products, look to build a new one! From a national perspective, the Medicare population is moving to lower premium products – but they still expect all the bells and whistles. When taking at a quick look at the AEP results, there were many plans that did not grow or their growth was minimal. The following shows the top 10 plans with member growth and then all others.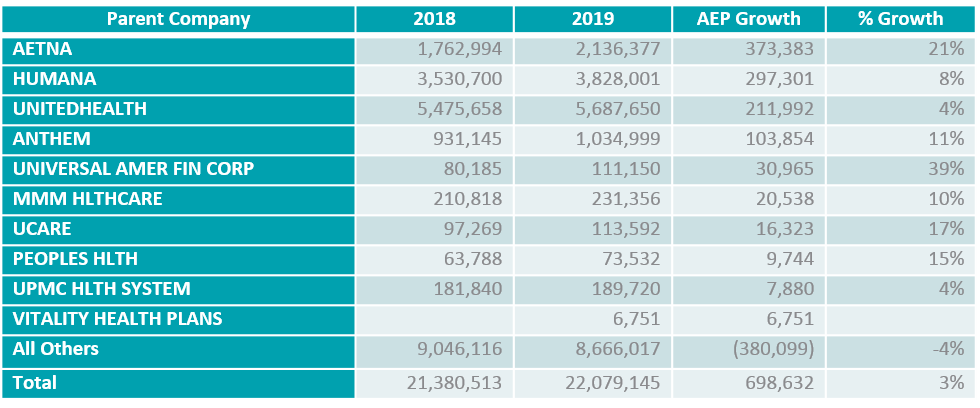 Although the top three plans have amassed the most membership, there is still real opportunity for growth if you go about it with the proper planning.
Do you have a growth strategy? Plans today should not just be looking at product and benefit development from a short-term perspective. You should have a continuous growth strategy in place for your products and plans. Product development should not just be a January to June exercise. It should be part of a continuous process that allows you to understand your market, what your members and prospects need, and how to maximize their health and your profitability. Gorman Health Group (GHG) recommends a continuous three-year strategy be in place.
Are you taking advantage of the new benefit opportunities for 2019? GHG will be developing a more comprehensive look at benefit and AEP results, but in looking at the opportunity for new and innovative ideas to either affect savings from the benefits (for members with chronic conditions) or use them to attract new membership or just to keep your members at home instead of in the hospital, now is the time to be researching these types of benefits for your products. Are you looking at the right data to understand what your market needs? Here are a couple of benefits being offered by HMOs across the country:

Additional meal delivery
Bundling of benefit with a dollar cap to allow members more flexibility to personalize benefits
In-home support
Palliative care
Support for caregivers
Assistive devices for home safety
Adult day care
Housekeeping
These are just a few of the many benefits now being offered by MA plans.
Last But Not Least: Medicare is not the "Field of Dreams" – just building the best product doesn't mean they will come. MA plans today must ensure their sales and marketing strategies are just as strong and buttoned up as their product and benefits to be successful. Product, Marketing, and Sales should be planning together on building products that will resonate with the market and planning how to best promote and sell in the marketplace.
Resources:
Stay connected to industry news and gain perspective on how to navigate the latest issues through GHG's weekly newsletter. Subscribe
Learn how a single platform designed specifically for Medicare can streamline enrollment and offer a better way to deliver a return on your plan's investment. Click here