You Can NO LONGER Be on Autopilot! Live or Let Die to the Nationals!
This past Annual Election Period (AEP) was more active than in past years, and the results show it. There were more than 600,000 net new Medicare Advantage (MA) enrollees this AEP. The following chart shows the AEP growth of the 10 largest parent organizations. The top three – UnitedHealthcare, Humana, and Aetna – had significant gains in enrollment – more than the total growth nationwide. Humana and Aetna killed it this AEP with a combination of super competitive plans and expansions into new counties.
What is really concerning is the "All Others" line that had a combination of more than 150,000 members and a 3% loss! Are you one of those "All Other" plans? Last year was the perfect year to "go big" with your benefits, marketing, and aggressive sales distribution strategy to compete against the nationals. We saw and helped a few "All Other" plans do it well and win in the market.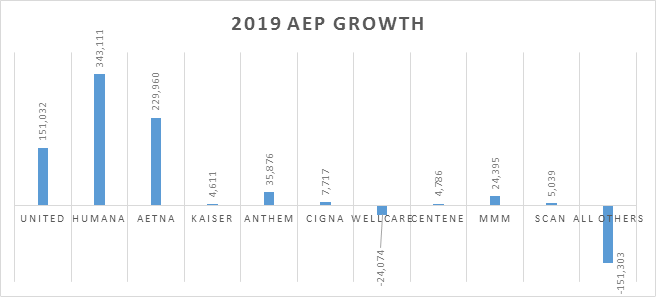 But don't worry – if you missed out last year, this year will be another opportunity to grow your market for 2020. You need to take a long hard look at what you're doing and why you're doing it. And it takes a strong mix of the following:
Product
Marketing
Sales Distribution
Product
But you can't do it by changing a couple of benefits or adding another direct mailing or field marketing organization (FMO) to the mix. You'll want to do a thorough assessment of your product, marketing, and sales strategy to ensure you are keeping abreast of both local and national trends in the market and really take a good hard look at what you need to change for 2020. Don't wait to see what the market will do next year – lead the market this year!
From a benefit and product perspective, the Centers for Medicare & Medicaid Services (CMS) has given plans the ability to be really creative and create some benefit differentials. In addition, the new benefit opportunities are screaming at plans to truly understand their members and put benefits in place to make an impact on their members' health and your medical loss ratio.
Have you done a deep Medicare Plan Finder (MPF) dive to understand where and why you are on Page 1 – or Page 10? Did you ever wonder why one of your competitors whose benefits are not as strong as yours has a better position on MPF? There is a science to MPF, and you need to understand how to arrange your benefits to be best represented in the market.
Marketing
From a marketing standpoint, how do you stand out from the crowd – is it in a good way? The nationals have bigger budgets, so you need to maximize your spend wisely. There are three things to consider:
Creative: Pretty creative doesn't always sell – make sure your ad agency is not setting themselves up to win awards. Are you getting out there with marketing that generates leads? It's the marketer's responsibility to make sure the benefits that prospects want in the market are being highlighted multiple times throughout the creative.
Models and Targets: GHG has seen MA plans utilize models that are really worthwhile, while others utilize the same model to death and forgetting that when you make changes to your products and benefits, you can change the dynamics of your targeted segments.
Have you really micro-managed your marketing channel analytics to understand what channels need to be further enhanced or have decreased spending? In this day of omni-channel marketing, it's getting harder to really understand the dynamics of your marketing dollar, and that's why it's more important to understand how each channel is operating on its own and in concert with other channels. Are you testing new opportunities? Are you testing at all?
Sales Distribution Strategy
Sometimes you really need to take a fresh look at your sales distribution strategy:
Are your FMOs providing the value you need? Should you be utilizing FMOs? In competing against the national carriers, who rely heavily on FMOs, how do you stand out in the crowd?
Are your employed representatives trained properly? We have seen many sales teams that have received little to no sales training. Having a strong sales team, whether they are on the phone or out in the field, is critical in today's world.
Understand that your vendors can be the difference between making goals or not making goals. In today's environment, many MA plans outsource critical functions, especially when it comes to the call center. How are you overseeing reporting and quality? What is the turnover rate, and how involved are you in training?
Sometimes we need to step back and really take a fresh look at how and why we are running our products, marketing, and sales? We need to take a look at how others in the industry are conducting business, especially those that are gaining membership. This doesn't mean we need to copy them – but what should we be doing better and/or differently to get an edge in the market? This is an exercise that should be done every year to stay in the game.
If you need help with assessing what you could do differently in your product, marketing, and sales distribution strategies, give me a call – I would be happy to talk with you.
---
Resources:
Stay connected to industry news and gain perspective on how to navigate the latest issues through GHG's weekly newsletter. Subscribe
Learn how a single platform designed specifically for Medicare can streamline enrollment and offer a better way to deliver a return on your plan's investment. Click here